Ukraine prioritises EU integration
Comments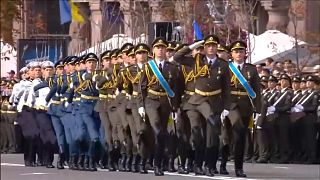 Ukraine's president said his country will do everything possible to become a member of NATO and the European Union.
Petro Poroshenko was speaking during the country's Independence Day celebrations in Kyiv on Thursday (August 24).
Porosheko said Ukraine has already achieved serious success on the path to European integration.
Ukrainians have been allowed travel to EU countries visa-free since June after a deal with the European Council and European Parliament.
Poroshenko has pledged to make further integration with the EU a priority.
"September 1, in a week, the Ukraine-EU Association Agreement will take effect and become a road map of reforms for us," Poroshenko said. "This is the only road we have: wide Euro-Atlantic highway (he said 'autobahn'), which leads us to EU and NATO membership"
The agreement will promote deeper political and economic ties between Ukraine and EU member states.
Happy to welcome James Mattis in Ukraine. Visit of U.S. Defense Secretary, first in the last 10 years, is a powerful symbol. pic.twitter.com/IPublCze8I

— Петро Порошенко (@poroshenko) August 24, 2017