Australia defends spy chief's 'fist' salute with Philippines leader
Comments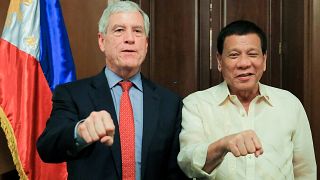 Australia's spy chief Nick Warner has been attacked for making a clenched fist when taking a picture this week with the controversial Philippines president.
Rodrigo Duterte used the pose throughout his election campaign last year during which he promised to use deadly force to wipe out crime and drugs.
Nick Warner, head of Australia's Secret Intelligence Service, met with Duterte on Tuesday.
Completely inappropriate photo for the head of one our most important intelligent services to be in. https://t.co/MouXGc42WD

— Anthony Byrne (@AnthonyByrne_MP) August 23, 2017
Rights groups say the photo undermines Australia's criticism of his war on drugs.
But Australia's Foreign Minister Julie Bishop says Warner was just responding to a request: "The Director General meets with leaders from time to time. I understand that the action, the fist bump, was not the Director General's idea."
ASIS Chief Nick Warner 'fist-pumps' with Rodrigo Duterte https://t.co/YLV2ZcFwC7

— Primrose Riordan (@primroseriordan) August 23, 2017
Last week's killing of a 17-year-old alleged drugs courier has sparked mass protests after footage emerged of suspected police brutality.
Demonstrators now want a thorough review of the police's drug war which has claimed more than 3,500 lives since Duterte took office.