Barcelona to conduct full security review
Comments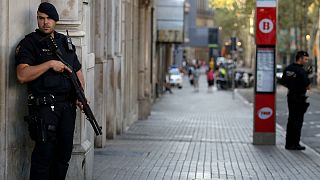 The city of Barcelona may be accused of bolting the stable door, but on the tourist hotspot of Las Ramblas and other popular sites, security is being stiffened considerably. There is a steely determination to ensure no terrorist attack like last Thursday's ever happens here again.
"Urban planning measures can be considered in sensitive locations, like Las Ramblas, Sagrada Familia, etc. We are talking about mobile or fixed obstacles, but there are also strategies like pedestrianisation or staircases in strategic urban places. Many measures could be an option," said Barcelona's Mayor, Ada Colau.
Years of terror attacks in Europe do not seem to have dampened the tourist spirit, and most people think Spain will take this in her stride.
"You see police everywhere, like in Paris. The atmosphere is all very relaxed. At the Ramblas you can feel the sadness and the pressure, but everywhere else it is very relaxed," said a French tourist.
Before the attack pressure was mounting on tourists from Barcelona residents to stay away, as the city was too congested. No-one is talking about that any more, at least for the time being.