Third brother freed from debris of Italian quake
Comments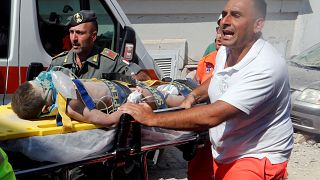 Rescue workers sawed and moved rubble with their bare hands as they raced to save people caught under collapsed buildings on the Italian island of Ischia.
At least two women are believed to have been killed and around 40 injured after the estimated 4.3 magnitude quake hit on Monday evening (August 21).
The Civil Protection Department in Rome said one of victims, a woman, was killed when she was hit by falling masonry from the church of Santa Maria del Suffragio.
Rescuers pulled a third brother from under the rubble of a collapsed building on Tuesday.
Ciro is the eldest of three brothers to be rescued.
Earlier on Tuesday, emergency workers found a baby boy called Pasquale in the wreckage and pulled him out alive in his nappy seven hours after the shock. There was a hush followed by loud applause.
Fire crews found his brothers Mattia and Ciro, aged seven and 11, stuck under a bed nearby. They kept talking to them and fed water to them through a tube, then managed to pull Mattia free.
By noon on Tuesday, emergency crews said they had freed Ciro's legs and were working to release him. "I promised them that after this was all over we would all go get a pizza together," one emergency worker said on Italian television.
The parents were safe because they were in another room.
About six buildings in the town of Casamicciola including a church had collapsed in the quake, which hit at 8:57 p.m.
The church was rebuilt after it, like most of Casamicciola was destroyed by an earthquake that killed some 2,000 people in 1883.
Italy's National Institute of Geophysics and Vulcanology put the magnitude of the quake at 4.0, revising it up from an initial 3.6, but both the U.S. Geological Survey and the European quake agency estimated the magnitude at 4.3
Many tourists who were in Ischia spent the night outdoors while others, as well as some residents, fearing aftershocks, decided to leave the island right away or as soon as possible on Tuesday morning.
Most of the damage was in the high part of the volcanic island. Hotels and residences on the coast did not appear to suffer serious damage but fire brigades are checking to see if they could still be used.
About 2-and-a-half thousand people cannot re-enter their homes, whilst the checks are carried out.
The island has a year-round population of about 63,000, which swells to more than 200,000 in summer, with many people from the mainland owning holiday homes.
Three extra ferries were provided during the night for about 1,000 residents and tourists who wanted to leave.
Many who were due to take ferries from Naples on the mainland to start their vacations cancelled their plans.
Some civil protection squads were already on the island because of brushfires.
Ischia, a volcanic island about a one-hour ferry ride from Naples, is popular with German tourists. German chancellor Angela Merkel has stayed there often.
Timelapse of Ischia 1984-2016