Watch: Competitors put best foot forward for toe-wrestling extravaganza
Comments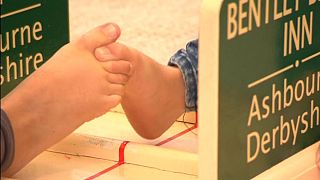 Strength, dexterity and a good dose of humour were on display for the toe-wrestling world championships in northern England.
Competitors went toe-to-toe in Fenny Bentley, Derbyshire, on Saturday.
The bizarre sport sees opponents enter a 'toedium' and link their bare feet together, seeking to pin each other's foot for three seconds.
Three rounds are played, one with the right foot, one with the left and then another with the right, if necessary.
The competition began in Derbyshire in 1976 when a group of walkers at the Ye Olde Royal Oak Inn, in Wetton – a village 12 miles away – set about searching for a game that only the British could win.
With a lack of any talent in existing sports, the decision was made to invent a new one and the weird event has been an annual highlight since.
On Saturday the men's final saw current world champion Alan 'Nasty' Nash out toe 'Doc Toe Scholl' to claim his 14th World title, his sixth win in succession.
A lady called Rebecca Beech took the women's title beating her mum, who had been a previous winner.