Acupuncture for Pets: Barking Mad or The Cat's Whiskers?
Comments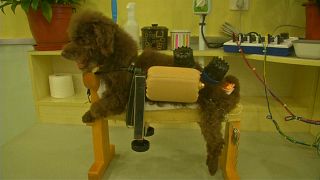 From ancient times in China, acupuncture has been used for a whole range of ills.
But now more and more pet owners are turning to needle power to help cure their cats and dogs.
In Shanghai, five-year-old husky Lulu is wheeled to her medical appoinments in a pram, after the pooch injured her hind legs.
Onwer Dong Hanyang takes her almost every day to a TCM (Traditional Chinese Medicine) Neurology & Acupuncture Animal Health Centre.
There, dogs and cats are inserted with needles paired with mild electric currents, followed by a moxibustion treatment that heats up dried mugwort herbs to stimulate particular acupuncture points.
Acupuncture is based on the theory that inserting and manipulating fine needles at specific points in the body helps to promote the flow of "Qi", or energy.
Acupuncture has been used for thousands of years to treat aches and pains in humans, but did you know it can help pets too? 1/2 pic.twitter.com/zeXUSIHRW8

— Amanda Little (@AmandaCNSport) 16 août 2017
Documented scientific evidence for its effects is patchy but pet owners who bring their beloved animals in for treatment are keen to tout its benefits.
Sitting alongside her black and white cat as it underwent treatment, 74-year-old Wang Xijuan said:
"People introduced (veterinary) acupuncture to me, and I believe in this field as well. China is famous for acupuncture. I took it (the cat) here immediately to have a try. It indeed works well. It can pee on its own after the fourth treatment, walk, now jump, and even fight with other cats."
Jin Rishan, a specialist at the Shanghai TCM animal clinic, says the centre has treated over 2,000 dogs and cats with neurological problems since it opened four years ago, and at least 80 percent of the animals have showed improvements in mobility.
with Reuters