WW2 warship USS Indianapolis found 72 years after its sinking
Comments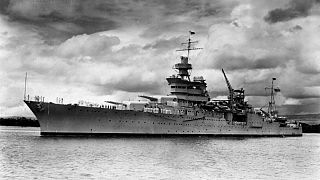 A US warship has been found in the Pacific Ocean – more than seven decades since it was sunk by a torpedo.
USS Indianapolis was located 18,000 (5.5 kilometres) below the surface by a civilian search team led by Microsoft co-founder Paul Allen.
Its destruction on July 30, 1945, inflicted the US Navy's largest-ever loss of life.
The warship, returning from a mission to deliver parts for the Hiroshima atomic bomb, sank so quickly just 316 of the 1,196 crew were rescued.
It was hit by a tornado from a Japanese submarine.
We've located wreckage of USS Indianapolis in Philippine Sea at 5500m below the sea. '35' on hull 1st confirmation: https://t.co/V29TLj1Ba4pic.twitter.com/y5S7AU6OEl

— Paul Allen (@PaulGAllen) August 19, 2017
"To be able to honour the brave men of the USS Indianapolis and their families through the discovery of a ship that played such a significant role during World War II is truly humbling," Allen said in a statement on his website.
"As Americans, we all owe a debt of gratitude to the crew for their courage, persistence and sacrifice in the face of horrendous circumstances.
"While our search for the rest of the wreckage will continue, I hope everyone connected to this historic ship will feel some measure of closure at this discovery so long in coming."
Important chapter of WWII history concludes—I hope survivors/families gain some closure. Anchor and ship's bell seen here. #USSIndianapolispic.twitter.com/Kk1YrcaeN1

— Paul Allen (@PaulGAllen) August 19, 2017
#RVPetrel's search for #USSIndianapolis continues—more info and pictures to come: https://t.co/8nNBj1iaO4pic.twitter.com/bzD86dSX57

— Paul Allen (@PaulGAllen) August 19, 2017
"Even in the worst defeats and disasters there is valour and sacrifice that deserve to never be forgotten," said Sam Cox, director of the Naval History and Heritage Command. "They can serve as inspiration to current and future sailors enduring situations of mortal peril.
"There are also lessons learned, and in the case of the Indianapolis, lessons re-learned, that need to be preserved and passed on, so the same mistakes can be prevented, and lives saved."
Captain William Toti (retired), spokesperson for the survivors of the USS Indianapolis, said: "For more than two decades I've been working with the survivors. To a man, they have longed for the day when their ship would be found, solving their final mystery.
"They all know this is now a war memorial, and are grateful for the respect and dignity that Paul Allen and his team have paid to one of the most tangible manifestations of the pain and sacrifice of our World War II veterans."