Lebanese soldiers raise Spanish flag in show of solidarity with attack victims
Comments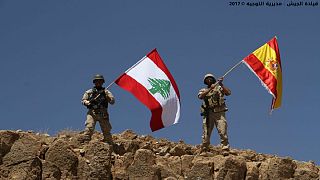 Lebanese soldiers fighting ISIL have raised a Spanish flag to salute victims of terror attacks in Barcelona and Cabrils.
They had started an offensive against ISIL on Lebanon's north-east border with Syria, on Saturday.
A photo of soldiers waving a Spanish and Lebanese flags from land recaptured from the Islamist militants was posted to the Lebanon Army's website.
It comes after ISIL claimed responsibility for two vehicle-ramming attacks in Catalonia last week, which left 14 people dead and more than 100 injured.
On Sunday, three Lebanese soldiers died and one was critically wounded when their armoured vehicle hit a landmine on Lebanon's border with Syria.