Netflix show, 'Glow' boosts interest in female wrestling
Comments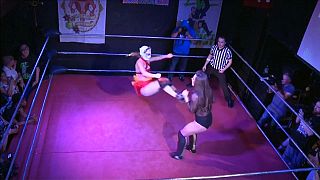 During the day Claire Heafford is a personal trainer, but by night every few weeks she dons a mask and takes on the role of her alter ego 'Rag Doll' to compete in an event called 'Eve'.
The all-female wrestling night in London attracts around 200 people per event.
Interest in the sport's been growing since hit Netflix show 'Glow' came out.
Although it has been selling out since it started in 2016 Claire admits 'Glow' has helped raise awareness of what female wrestling actually is all about.
"I was never into wrestling. It's really new to me. But yeah I've got friends who are kind of like, been watching Glow, have read the Time Out article, and now are like, "oh this is kind of cool what you are doing. I want to come down and watch," she says.
The shows are carefully choreographed, more like a dance rather than a violent fight and there is always a background story – however it's not for the faint hearted.
For those wanting to get up close and personal to the real thing 'Eve' takes place at Lucha Libre in London.