Colombia's FARC completes disarmament
Comments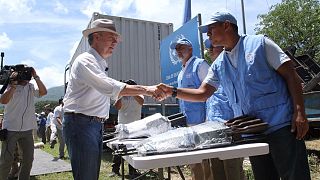 ​Colombia's FARC rebels have handed in more than 8,000 weapons as part of a United Nations-supervised disarmament process that concluded Tuesday.
"Our mission has, up to today, gathered 8,112 arms in these containers and destroyed almost 1.3 million cartridges," UN mission chief for Colombia Jean Arnault said at an event to mark the shipment.
The UN removed the final shipment of weapons from a demobilization camp in Fonseca, La Guajira province, one of more than two dozen zones where the rebels have been living since the start of the year.
Some 7,000 FARC rebels have demobilized since a peace accord was agreed last year between the Revolutionary Armed Forces of Colombia (FARC) and the government of President Juan Manuel Santos.
"We just witnessed something truly historic," Santos said on Tuesday. "It's the last breath of this conflict that lasted 53 years. When we see the last container go down this path, it's truly the final [stage] of the abandonment of weapons."
FARC leader Iván Márquez, who also attended the event, looked to the future. "Now starts the verification by the United Nations, and the FARC's reincorporation into the political, economic and social life of the country begins."
The accord brought to an end the decades-long insurgency waged by the Marxist rebels against Colombian authorities. The peace deal grants the group 10 unelected seats in Congress until 2026 and offers amnesty to most of the former fighters. Rebels convicted of human rights violations will avoid prison and instead perform reparations work, such as landmine removal.