Iraq bombs ISIL-held Tal Afar ahead of ground assault
Comments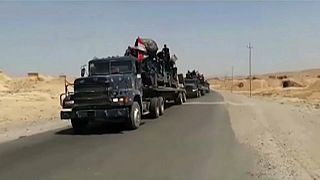 Iraq's military said on Tuesday that it is carrying out air strikes on ISIL targets in Tal Afar, west of Mosul, in preparation for a ground assault.
It comes after US-backed Iraqi forces completed the recapture of Mosul last month, shattering the self-proclaimed caliphate declared by so-called Islamic State.
Parts of Iraq and Syria remain however under ISIL control, especially along the border.
Tal Afar is one of the last pockets of land held by the extremists in Iraq.
Iraq starts bombing IS-held Tal Afar, west of Mosul: Sumariya https://t.co/6ZTsLDzzHGpic.twitter.com/iS7xw7UY1u

— Reuters Top News (@Reuters) 15 août 2017
The town had about 200,000 residents before falling to ISIL and hudreds of civilians have been fleeing the area ahead of the upcoming battle.
That means collection points, screening, and shelter in camps for many – uncertain of what the future holds for them and their families.
Hundreds of Iraqi's flee the city of Tal Afar over fears it will be the next battleground in the fight against ... https://t.co/oYKoOJA1LIpic.twitter.com/BkoNLeJ9WK

— euronews (@euronews) 13 août 2017
Tal Afar experienced cycles of sectarian violence between Sunnis and Shi'ites after the US-led invasion of Iraq in 2003, and has produced some of ISIL's most senior commanders.
It has now become the focus of a wider regional struggle for influence.
Turkey, which claims affinity with Tal Afar's predominantly ethnic Turkmen population, opposes the involvement of Shi'ite paramilitary groups fighting with Iraqi forces, some of which are backed by Iran.
The US-led coalition is also keeping up its support to the Iraqi forces' campaign to end the militants presence all over the country.
with Reuters