Kenya's Odinga calls for strike amid election dispute
Comments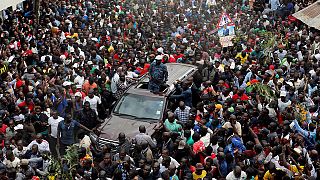 Kenyan opposition leader Raila Odinga is calling for people to stay away from work to support his claim to the presidency. Odinga is disputing the results of last week's election and has accused the ruling party of "spilling the blood of innocent people."
At least 24 people have been killed during protests since election day on August 8. On Sunday, Odinga visited the family of Damaglyn Marube, an 8-year-old girl killed by a stray bullet in the Kenyan capital Nairobi.
"My child went outside to play with other children while I was washing clothes," Marube's mother, Moraa Nyarangi told reporters. "In no time, I saw another child running towards me and tell me, my child has been shot and she's dead lying on the floor. When I got to where she was, I found her lifeless body lying on the floor."
As Odinga left the home in the slum area of Mathare, police fired tear gas to disperse a crowd of his supporters who had followed him into the neighbourhood.
Pressure Grows On Raila Odinga to Calm Supporters Amid Post-Election Violence: https://t.co/9vICb5PK3i#Kenyapic.twitter.com/FDStECIVgP

— allAfrica.com (@allafrica) August 14, 2017
Kenyan authorities say President Uhuru Kenyatta won the election by 1.4 million votes. International observers say Tuesday's ballot was largely fair and have urged Odinga to accept the official results.