Merkel slams German auto execs during election rally
Comments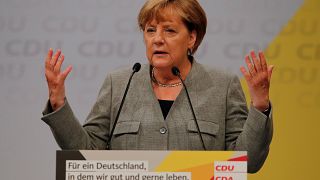 German Chancellor Angela Merkel's re-election campaign is underway. Speaking in Dortmund on Saturday (August 12), she ripped into executives from Germany's auto industry, pressing them to secure jobs through innovation, and win back trust lost by a diesel emissions sandal.
The sector is the country's biggest exporter and a huge employer, providing 800,000 jobs.
Addressing a quota for electric cars suggested by her main rival Martin Schultz, Merkel said: "I don't really believe that the quota for e-cars has been well thought out. I mean, what would be the steps, we would negotiate for ages in Europe as to what the quota should be and at the end what would we do if it isn't being adhered to."
Merkel has warned against demonizing diesel and petrol cars. She says we need them but to must shift faster to new technologies.
She is far ahead of her rivals in the polls, and has planned 50 rallies across Germany over the next month-and-a-half in the lead up to the September 24 vote. Merkel is seeking a fourth term in office.