Giant pipes wash up on UK beach
Comments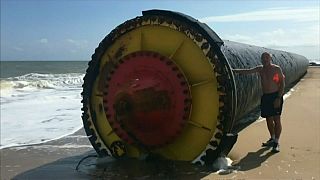 A number of gigantic Norwegian-made bore plastic pipes were discovered washed up on the English coast, officials said on Thursday (August 10).
The pipes, which are around two metres in diameter and 100 metres long, came free while under tow off the East Anglian coast and washed up by Horsey and Sea Palling in Norfolk.
Authorities said the beached pipes ranged from around 200 metres to 480 metres long.
They said there was no danger or potential for pollution from the pipes and that two specialist companies, Dutch Marine BV and Marine Towing Services, were working to remove them.
All pipes are expected to be secured at a single location before being towed back to the manufacturer, Pipelife Norway.
"The pipes were under transport to Algeria when a container ship crashed into them and drove right through," Pipelife Norway CEO Kjell Larsen told Reuters. He declined to name the vessel or its owners.
He said that the accident happened on July 18-19 and that the pipes were part of a delivery totalling 3,200 metres long for a construction project in Algeria.