Floyd Mayweather and Conor McGregor both predict knockouts
Comments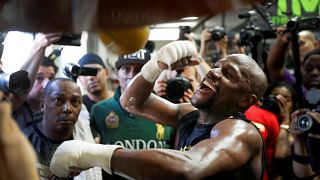 Floyd Mayweather has said he has done his homework on mixed martial artist Conor McGregor and promised their multi-million dollar fight in Las Vegas on Aug. 26 will not go the distance.
Both fighters have now tipped a knockout finish to the hotly anticipated bout between arguably one of the greatest boxers of all time and the explosive UFC champion.
"Expect excitement. He's gonna talk trash, I'm gonna talk trash, there's gonna be a lot of blood, sweat and tears," Mayweather told reporters at a media conference at his gym in Las Vegas.
Casually dressed in a black T-shirt and shorts, the bluster and profanity of the recent four-city promotional tour undertaken with McGregor was replaced by a more sober analysis.
"It's about doing your homework. It's not really watching fight tapes, it's about knowing the person you're facing across the ring from you. You want to know what they like to eat, what they're doing when they're not in camp," said the undefeated 40-year-old.
"That's called really doing your due diligence, doing your homework on your opponent."
Mayweather brushed off suggestions that the left-handed McGregor might cause him problems.
"Last time I checked I was undefeated, whether it was orthodox or southpaw. McGregor, he's gonna come out and keep switching (stances)… but when you keep switching all you're doing is burning energy," he told reporters.
The brash 29-year-old Irishman, who has never boxed professionally, became the first UFC fighter to hold two belts simultaneously when he added the lightweight belt to the featherweight title he already held last November.
Having scored two knockouts to win his belts, McGregor has confidently predicted he will floor Mayweather within four rounds to hand the American his first defeat in what will be his 50th professional bout.
"He's looking forward to getting out there and ending the fight early. I'm looking forward to going out there and ending the fight early. It won't go the distance," said Mayweather, the winner of a slew of titles in various weight classes.
"He's confident. They're always confident. But it's different when you get in there with Floyd Mayweather."