US expels two Cuban diplomats after its embassy staff in Havana are subject to possible "acoustic attack"
Comments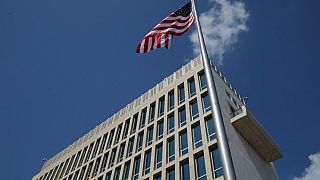 The US State Department says it has expelled two Cuban diplomats from Washington following a series of unexplained
incidents at the US embassy in Havana.
American officials are said to have suffered mysterious physical symptoms, including permanent hearing loss, in what has been described as a covert "acoustic attack".
US State Department spokeswoman Heather Nauert said staff at the embassy began complaining of strange symptoms late last year, saying Washington was taking the incidents extremely seriously.
"What this requires is providing medical examinations to these people. Initially when they started reporting what I'll call just symptoms, it took time to figure out what it was, and this is still on-going. So, we're monitoring it, we provide medical care and concern to those who believe they have been affected by it and we take this extremely seriously."
The two Cuban diplomats are said to have left Washington in May.
Cuba's foreign ministry, which vehemently denies any attack, says it is investigating the allegations.