London's 'Mail rail' brought back to life as tourist attraction
Comments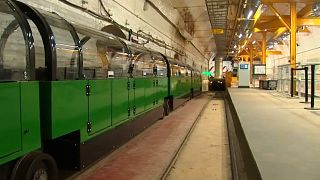 A one hundred year old secret lies deep beneath London's busy streets.
A mail train, once a vital piece of communications technology 70-feet below the UK capital, will soon be roaring back to life after years of disuse.
#ThrowbackThursday: See #London's Underground '#MailRail,' Then and Now via atlasobscura</a> - <a href="https://t.co/9OIsNeiXiT">https://t.co/9OIsNeiXiT</a> <a href="https://twitter.com/hashtag/TfL?src=hash">#TfL</a> <a href="https://t.co/0gMzuD0X6m">pic.twitter.com/0gMzuD0X6m</a></p>— Apex Lifts (ApexLifts) 10 August 2017
Construction of the 6-mile underground line began in 1915 and 22 hours a day for close to 90 years, the train ferried post from sorting offices on the east and west sides of the city until it was decommissioned in 2003.
Now, mail rail is to be revived, although not for its original purpose.
It will be opened to the public next month as a tourist attraction at London's Postal Museum, where visitors will be able to ride a section of the old track, and explore an engineering depot turned exhibition space.
"Mail rail originally came about because mail was being delayed in London due to congestion in the streets above us," Adrian Steel, director of the Postal Museum and mail rail said.