18 jailed for child sex crimes in UK
Comments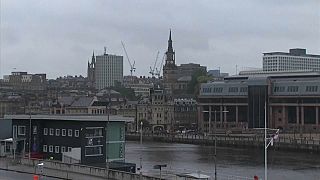 More than a dozen people have been convicted of child sex offences in the UK city of Newcastle, but tabloid newspapers and children's advocates expressed outrage at news that police reportedly paid a convicted rapist ten thousand pounds to inform on people within the gang.
Seventeen men and one woman, in their thirties and forties were convicted of or admitted to charges including rape, supplying drugs and inciting prostitution. Their hundreds of victims were all girls aged as young as 13.
Jon Brown from the NSPCC struggled to understand the thinking behind the decision.
"There are some serious – very serious – questions in relation to how the police in Northumbria thought that this decision making was ok, and thought that it was safe to put this convicted child rapist in contact with some of the vulnerable children."
Steve Ashman, police chief constable for Northumbria Police Chief Constable defended their decision, saying that without an informant like this, none of the 18 in court might have been convicted at all.
"As unpalatable as this is, and it is for me – as a man, as a human being, as a father – it is difficult for me to get my head around, but we have to step into a murky, a dangerous and a shadowy world, and the people who are going to provide us with that information that will protect victims, they are the very people who themselves may well have committed these vile acts."