South Africa: Secret ballot puts Zuma fate in balance
Comments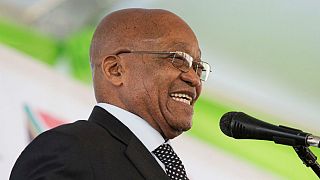 South African MPs are voting in secret on Tuesday on a motion of no confidence in President Jacob Zuma.
The opposition hopes anonymity will embolden some members of the governing ANC to vote against a leader whom critics accuse of corruption and mismanaging the economy.
However governing ANC MPs met on Tuesday and resolved to support Zuma later in the day.
Zuma, who also attended the meeting, was described as being calm and jovial by the party's chief whip Jackson Mthembu.
South African MPs to cast secret ballots in Zuma no-confidence vote https://t.co/IZ7FHaixvA#zumavotepic.twitter.com/i9qEeC1Lus

— AFP news agency (@AFP) 8 août 2017
There is no shortage of protesters however, calling for him to go.
Hours before the vote, anti-Zuma demonstrators blocked roads with burning tyres and rocks across Gauteng province, where the commercial hub Johannesburg and capital Pretoria are located.
Some posters featured a cartoon of Zuma in a dustbin.
Zuma, who has held power since 2009, has survived several previous no confidence votes but they weren't held in secret.
On Monday, however, the speaker of parliament Baleka Mbete took the surprise decision to allow the anonymous ballot.
S. Africa's parliament speaker upholds secret no-confidence vote against Zuma https://t.co/HMDNCQvh2g

— africanews (@africanews) 7 août 2017
The ANC has a big parliamentary majority and it would take 50 of its MPs to back the opposition to remove Zuma and his cabinet.
Zuma's tenure as South Africa's president is due to run until 2019, when national elections will be held.
The ANC — once all-powerful as heir of South Africa's anti-apartheid struggle — has lost popularity under Zuma, underscored by its worst electoral showing in over two decades of power in local elections last year.
Thousands of people took part in protest marches in April calling for him to step down.
with Reuters