Record-breaking heat wave set to continue into next week
Comments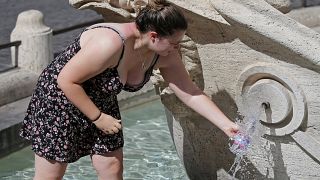 A heat wave across southern and eastern Europe has been dubbed 'Lucifer' as temperatures reach above 40 degrees Celsius.
Several countries have issued health warnings as this week's record-breaking weather conditions has fanned forest fires and damaged crops.
At least two people have also died and many more have been taken to hospital.
Temperatures in Italy are 10C higher than average for this time of year and many cities have turned off their fountains due to drought.
At 9 am in Bosnia it had already hit 34 degrees. People there are being advised to stay indoors and increase their water intake.
In neighbouring Croatia, the heat wave and peak tourist season have driven power demand and prices to record levels.
With millions of holidaymakers flocking to Spain's coastal areas, cities like Barcelona are distributing water to the vulnerable.
Temperatures are expected to remain at around 40 degrees into next week with health warnings issued in several European cities.