Passengers warned of travel chaos at airports this weekend
Comments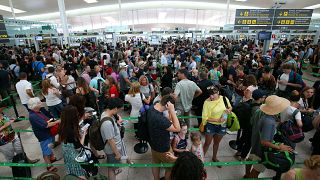 Travellers passing through Europe this weekend have been advised by airports to arrive at least three hours early to avoid chaos at passport control.
The precautions are being taken in light of the new EU border regulations which require stricter checks for passengers arriving from outside the Schengen area.
Malaga, Mallorca, Lisbon, Milan, Paris-Orly, Lyon and Brussels have all been badly hit.
Airlines are also warning of delays due to strike action at Barcelona airport every Friday, Sunday and Monday throughout the summer.
Passengers are now having their details checked through databases which should alert officials if they are known to pose a threat.
Countries including France, Spain, Italy and Belgium have all come under fire for failing to predict the surge in queues over the summer months.