Trump transgender military ban: Jennifer's story
Comments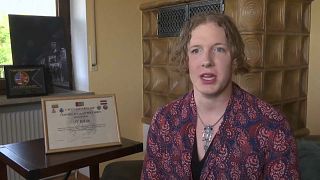 "It was devastating."
That was the reaction from one US Army Captain to President Donald Trump's decision to ban transgender individuals from military service.
Just months ago, Jennifer Sims e-mailed over 200 fellow troops who knew her as Captain Jonathan Sims, to tell them her transgender secret.
Now though she is left facing an uncertain future.
"Transgender Americans have served the United States since time immemorial and so I just request, respectfully request, that any changes to policy that become official take that into account," she said.
Capt. Sims felt surge of relief when she told troops she was transgender. Her unease is back after Trump's tweet. https://t.co/6989v0Cvxc

— The Associated Press (@AP) 31 juillet 2017
Jennifer said life was difficult before the Obama administration allowed transgender people to serve openly.
"Living in the military and knowing you're transgender but having to hide it, it was just exhausting," she said.
"It's a constant dialogue in your head about trying to not look feminine in any way because you are very self-conscious about the fact you know you are not really male but you have to keep that hidden."
But Trump's unexpected tweet announcing the ban shattered her new-found sense of security.
For the moment, the situation is uncertain. The Pentagon says it won't execute Trump's order without further guidance.
Based at a US Army garrison in the German state of Bavaria, Jennifer's transition is being overseen by a military doctor.
Whether she will be able to continue it – or her service – is now in the balance.
Doctors come out against Trump's transgender ban: There's no medically valid reason for it https://t.co/wFB7VuBBVppic.twitter.com/dhRG5sm3OT

— The Hill (@thehill) 27 juillet 2017