North Korea TV shows ballistic missile launch
Comments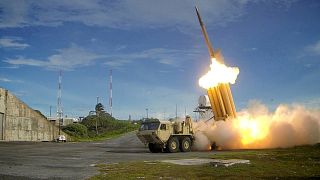 North Korea's state television has broadcast pictures of the launch of an intercontinental ballistic missile with leader Kim Jong Un
personally supervising the midnight launch of the rocket.
Pictures show the missile lifting-off in a fiery blast in darkness followed by photos of the North Korean leader cheering with military aides.
State-run media also released a photo of a note allegedly by Kim Jong Un which translated as 'second test launch approved, to launch night of the 28th'.
Japan's Prime Minister Shinzo Abe says the international community must step up the heat on North Korea. "As long as North Korea continues these provocations, the United States., South Korea, China and Russia and the whole international community must closely cooperate and apply additional pressure," he said.
Cameras in the north of Japan captured a flash of light in the night sky at the same time as the North Korean missile came down in nearby waters after allegedly flying for just over forty seven minutes.