Big operation against ISIL in Raqqa
Comments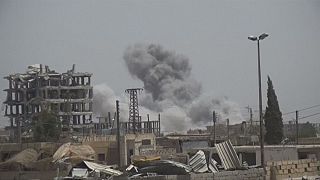 ISIL militants are coming under further attack in the Syrian city of Raqqa by US-backed Kurdish-led forces.
American jets are carrying out airstrikes as fighters from an alliance of Kurdish and Arab militias (SDF) advance further into the city, a stronghold of ISIL in Syria since 2014.
This as Syria's army and its allies reached the edge of the last town held by ISIL in Homs province.
In Raqqa, fighters from the SDF alliance say they seized drones and ammunition from ISIL.
One fighter showed a reporter what they found. "We found these and took them. They would fly these and explore our areas, we took them. You can also see mortars, made by hand, and here are the planes and bombs they would make."
The Syrian Observatory for Human Rights says ISIL fighters attacked the US-backed forces east of Raqqa on Friday, abducting a number of people.