Romania's last Holocaust survivors still await amends from Germany
Comments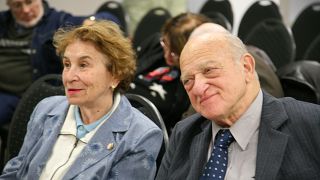 Seventy six years ago, 10-year-old Rene Aisman and her family took refuge in the basement of a house in Iasi, Romania. Over a couple of days in the surrounding area, 14,000 of their fellow Jews died violently – either massacred by Nazi sympathisers or suffocated on 'death trains'.
Rene's grandfather was on one of the trains, although her family has never been able to find out exactly how, or where, he died.
This month, the German government decided to acknowledge responsibility for the massacres, which occurred shortly after Romania joined the Second World War as a Nazi ally, and pay compensation to the survivors.
Rene won't get anything. She died two years ago in Israel aged 84, one of a growing list of Romanian Jews for whom the wheels of justice have simply turned too slowly.
'Not about the money'
Her sister, Anette Vainer (pictured with her husband Aurel), should be paid, assuming her claim is processed and the money released in good time. But for her the financial question is not the most pressing.
"I'm pretty strong, at this age, God knows if I will receive something… If I will get something, that's fine, if not … that's not the worst thing," she says.
"There were so many things during the time I was growing up and that I didn't understand… So many people died, there were so many things happening that you were thinking about something else, not about the money, to have money. If they will give, sure, it is a good thing. That was not what hurt me the most," she told Euronews.
And others who suffered humiliation and the fear of watching as the world collapsed around them are even further from any formal reparations because they remain excluded from the German government programme.
For example Anette's husband, Aurel, now 85, who grew up in the small town of Stefanesti, in Botosani county, eastern Romania.
"I was 10 and a half and one morning, I think it was Saturday or Sunday, all the family was gathered together – I was part of a large family, with 7 children – two men with legionary uniforms appeared and told my father: 'Sir, we have come to take over all your property. They took everything – the land, the animals and the machines used for the farm."
Leaving everything their lives were based around, the family were forced to move first to a nearby village and then on to the regional capital Botosani, where a new law decreed all local Jews should live.
"As a pupil, I was not allowed to go out in town between certain hours," he remembers. And Jews were not allowed to go to the market before 10:00 am, by which time the war-starved stalls were empty.
Nevertheless, the Vainer family were more fortunate than some because their father's business connections allowed them to do what others could not and move on once more, this time to the Romanian capital Bucharest. There, the nine family members shared a two-room rented apartment while the older children worked on forced-labour projects.
"I still have in my mind those images with the human convoys, old people and children, people carrying their wealth in prams," he says.
Compensation criteria
Nowadays, Mr Vainer receives only a monthly 1,000 RON (219 euros) compensation from the Romanian government for what he suffered because Botosani is not recognised as ghetto under the criteria established by the German Ministry of Finance.
The conditions for receiving a monthly allowance from Germany, amounting to 336 euros, are,
to have been:
incarcerated in a concentration camp or in a camp or labour battalion during specific time periods as defined by the German Ministry of Finance
imprisoned for at least 3 months in a ghetto or an open ghetto (as defined by the German Ministry of Finance)
in hiding for at least 4 months, under inhumane conditions, without access to the outside world in German Nazi occupied territory and Nazi satellite states (following Nazi instigation)
living illegally under false identity or with false papers for at least 6 months under inhumane conditions in German Nazi occupied territory and Nazi satellite states (again Nazi instigation) or were a foetus during the time that their
mother suffered persecution.
Mr Vainer says that before it is too late for the last survivors the scheme should be widened to recognise other pogroms and ghettos, like that where his family was trapped in Botosani.
"We can count on our fingers the survivors from the Iasi pogrom. You have to think that those who lived during the Iasi pogrom are now very old."
Aside from acting fast, the German government could also offer some compensation to the offspring of those who never received reparations during their livetimes, says Liviu Beris, an 89-year-old survivor himself and the president of the Association of Jews from Romania Victims of the Holocaust.
"For sure, as long as they live, people can't be healed, instead you can make their living conditions easier at a certain age," he said. And offspring of those who died should also be recognised:
"Normally the heirs of those ones murdered [should benefit from compensations], did they have a normal life?" he asks.
By Lorelei Mihala