EU aware of German car makers fraud claim?
Comments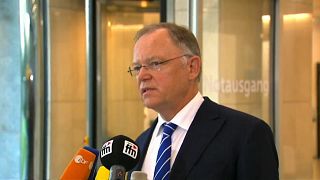 Reports in the German media says the EU Commission has been aware for years that large German car manufacturers could have contravened EU cartel rules.
According to information from German newspaper Süddeutsche Zeitung, auditors at Daimler came across possible talks between BMW and Volkswagen back in 2014 and informed Brussels.
Daimler and VW's supervisory boards called emergency meetings after the European Commission confirmed it had received information on suspected collusion and was investigating the claims.
During its meeting Volkswagon explained cooperation among car makers is a common industry practice but declined comment on allegations that it engaged in anti-competitive conduct with other German car makers.
"Is it still about legal and competitive neutral discussions and agreements between car companies, or has it become an illicit and competitive-influenced, restrictive agreement?" asked Stephan Weil, a Volkswagon supervisory board member.
Volkswagon, Daimler, BMW, Audi and Porsche have faced a barrage of public criticism after a report by German magazine Der Spiegel said car makers had colluded for decades on prices, technologies and the choice of suppliers to the detriment of foreign rivals.
Almost two years after VW's emissions-test cheating scandal broke, car makers are keen to avert another industry crisis as they grapple with calls by German politicians to clean up their diesel engines or face their cars being banned in major cities.
Companies found guilty of breaching EU cartel rules face fines of as much as 10 percent of their global turnover.