Dubai dogs get own air-conditioned park and pool
Comments
By
Euronews
with
EURONEWS, TIME OUT DUBAI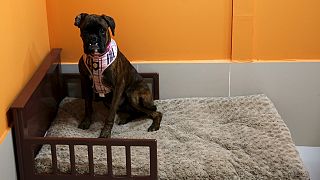 It appears a dog's life isn't so bad after all. At least in Dubai, where an indoor dog park claiming to be the world's largest opened last April.
My Second Home is a manicured air-conditioned space the size of 18 tennis courts, where dogs and their owners can escape Dubai's scorching summer heat.
"The idea started off with three guys. We met up at a lake – one of the lakes around Dubai – and we decided it was too hot for dogs to play in the lake, so we decided to open a place where we can have an indoor dog park with a swimming pool," says co-founder and animal behaviourist Vaughn Pillay.
Here, trainers ensure that only dogs of the same size and temperament play together – so no fight can spoil the fun.
The park features 200 luxury "suites", brightly colored with lick-proof, non-toxic paint and tailored to each dog's needs, with orthopedic mattresses and flat screens playing DogTV – a channel scientifically designed to provide the best virtual company for dogs.
Entrance rates to the park range from 25 euros for a full day to 125 euros for a night in a double occupancy "villa".
According to Time Out Dubai, My Second Home plans to expand and to open a spa providing pet pedicures. It also plans to create a cattery in the same spirit.