Amazon's Bezos world's richest man
Comments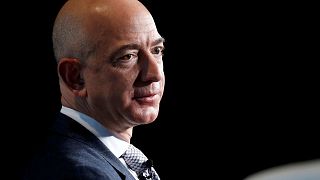 Amazon founder Jeff Bezos is now the world's richest man after a surge in the company's shares pushed his fortune to 77.5 billion euros.
Bezos, who started selling books from his garage 22 years ago, is the first man to bump Bill Gates from the top slot in the Forbes list for seven years. He leaves the Microsoft founder languishing in second place with a mere 77.1 billion euros.
Bezos now has plans to acquire Whole Foods Market Inc, at the same time as he is making strides in the fashion business, Hollywood, enterprise computing and general
retail from India to Mexico.
There are signs the Bezos may want to follow in the footsteps of tech billionaire Gates. He recently sent out a tweet saying he was considering
"a philanthropic strategy" for "the long term."
Request for ideas… pic.twitter.com/j6D68mhseL

— Jeff Bezos (@JeffBezos) 15 juin 2017
Gates gave 28.3 billion euros to charitable causes in 2016