EU court urged to dismiss migrant quota challenge
Comments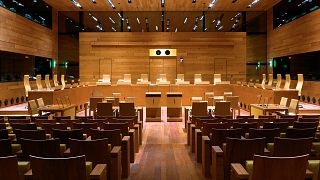 Sharing out asylum seekers among EU member states is lawful, according to the adviser to the European Court of Justice.
Backing the bloc's quota system, he urged the court to dismiss a case brought by Slovakia and Hungary challenging obligatory relocations.
The 2015 programme was designed to ease pressure on Greece and Italy after mass arrivals of migrants, mostly fleeing conflicts or poverty in the Middle East and Africa.
Many members have dragged their feet in implementing the scheme however, with opposition led by the two eastern EU states, backed by neighbouring Poland.
Court told to 'dismiss' case against #EU migrant quotas https://t.co/XPHePBI0Ca

— EUobserver (@euobs) 26 juillet 2017
The nationalist-minded, eurosceptic governments in Warsaw and Budapest have refused to take in a single asylum-seeker under the EU scheme.
The ECJ's Advocate General Yves Bot rejected most of the procedural arguments presented by Slovakia and Hungary and said the resettlement scheme was appropriate.
"The contested decision automatically helps to relieve the considerable pressure on the asylum systems of Italy and Greece following the migration crisis in the summer of 2015 and… is thus appropriate for attaining the objective which it pursues," he said.
A final ECJ ruling is expected later this year. The Court is not obliged to but generally does follow the advisory opinion of its Advocate General.
with Reuters