Fencing: Italy and Estonia take final golds in Leipzig
Comments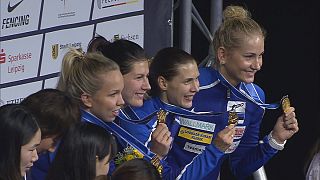 Estonia faced China in the women's team epee final at the world fencing championships in Leipzig. The Estonian women had already gained a lead in the third bout and held it convincingly to the end to clinch the gold medal 45:33. Poland won their match against Korea with great poise to take away the Bronze medal 33:28.
And Italy took the final gold medal of the day in the men's team foil. In a tight and often dramatic match, they managed to hold off the American challenge 45:41 and hold onto their record breaking reputation. France took home the bronze medal after they met Russia with a 45:37 score.
With the teams starting to take the shape that might be seen in the Tokyo Olympics in three years, the results here will undoubtedly start people talking about where the challenges may lie and also where they might have a serious shot at a medal.