Here's how to say the Hogwarts houses in other languages
Comments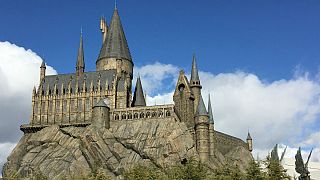 The Harry Potter franchise is a global sensation and the books have been translated from British English into around 73 languages.
While some translators have stayed true to the original English spelling and pronunciation, others have changed the names of characters and places for their audience.
The Hogwarts houses, named after the four founders of the school of witchcraft and wizardry, are at the core of the books and films.
In the English versions, the four houses are called Gryffindor, Ravenclaw, Hufflepuff and Slytherin, and while their pronunciations may vary, these names have been kept in the Portuguese, German, Spanish and Turkish translations.
Despite using a different alphabet, the Arabic and Greek translations keep the same pronunciation of all the Hogwarts houses, with "Gryffindor" written غودريك غريفندور and Γκρίφιντορ, but pronounced the same as in English.
Italian, French, Welsh and Hungarian have completely changed some of the houses to make their onomatopoeic quality more obvious for their audience.
"Slytherin" became "Serpentard" in French and in Welsh, translators went for the descriptive "Slaffenog".
"Hufflepuff", the house represented by a badger, became "Tassorosso" in Italian, "Poufsouffle" in French and "Wfftiwff" in Welsh.