Watch: Trump masks used in Italian cashpoint robbery
Comments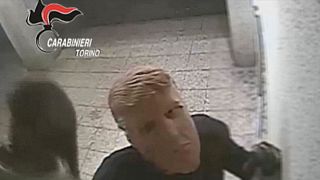 Two suspected robbers in Italy wore masks of U.S. president Donald Trump as they raided dozens of cash machines, police say.
The raids, one of which was caught on CCTV, conjure links to the 1991 film Point Break, in which robbers don masks of former American presidents.
But police in Italy say the suspects – brothers aged 26 and 30 – were instead inspired by the film The Jackal.
That's because like the movie's protagonist – played by Bruce Willis – the pair changed the colour of their car to throw police off the trail. Police said the brothers, now arrested, painted their while Mercedes black to try and fool officers.
In closed circuit footage of one of the robberies, one of the brothers in a Trump mask is seen covering the surveillance cameras in the lobby of a bank and planting an explosive in the cash dispenser.
He then ducks around a corner after lighting the fuse, just before a violent blast.