Hemmingway look-alike competition kicks off in Florida
Comments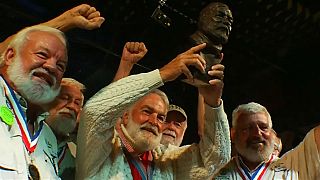 An annual competition for Earnest Hemmingway lookalikes took place in Key West, Florida, on Sunday, July 23.
The competition is held on July 21 every year to mark the winner of Nobel Prize in literature's birthday.
Born 117 years ago in Illinois, the white-bearded author lived and worked in Key West during the 1930s and frequented "Sloppy Joe's" bar where the competition is held.
This year's winner was Texan Richard Filip, who was considered to have the closest resemblance to Hemmingway of all the 150 contestants.
"Sailing into Key West was just incredible. I just looked around and thought these are the waters that Ernest travelled in and it was incredible to duplicate that. I feel like I was a part of his life," Filip said.