Children among dead in US truck
Comments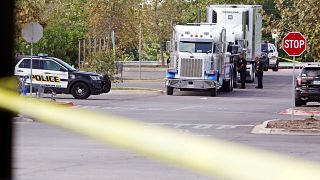 Nine people have died after being transported in the back of truck in the US state of Texas, two of them children
Police in San Antonio originally discovered eight people dead in the back of the lorry and rescued 30 others. A ninth person later died in hospital.
The driver of the vehicle, which was in a Walmart car park, has been arrested.
There was no air conditioning or water in the truck despite temperatures outside hitting 38 Celsius.
Officials believe the incident is linked to people smuggling.