Salvador Dali's intact moustache
Comments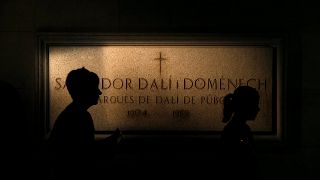 The body of Spanish artist Salvador Dali has been exhumed for DNA samples to settle a paternity case – and in a typically surrrealist twist his moustache was found to be intact.
The local authorities and the Gala-Salvador Dalí Foundation opposed the exhumation.
If the woman who came forward claiming to be Dali's daughter is right then she'll have a claim to his estate.
Exhumation of Salvador Dali's remains finds his mustache still intact https://t.co/jSXLIWuxxOpic.twitter.com/rRnDDK9Po8

—

NBC

News (@NBCNews) July 21, 2017
"Dali's body had been embalmed, it was mummified and the moustache was preserved, as the forensic doctor (Narcís) Bardalet said, it was in its classical position at ten ten," Luis Peñuelas, the General Secretary of the Dalí Foundation told reporters.
Dali died in 1989 and is buried in a crypt in the museum that celebrates his work in Figueres, in north-eastern Spain.
The woman making the claim is tarot card reader María Pilar Abel Martínez, but intriguingly Salvador Dali always insisted he was impotent and never had any children.
She said her mother, who was a domestic worker in Dali's house, told her when she was a child that Dali was her father.
The DNA analysis could take weeks but will be ninety ninety percent accurate officials say.
If she is proved right Martinez will receive a quarter of Dali's estate which is currently the property of the Spanish state.