Police fear young girls are being 'taken on holiday for FGM'
Comments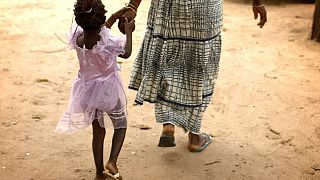 Patrols are being stepped up at London airports amid fears children are being taken on 'holiday' for female genital mutilation (FGM).
Police say they will target flights to-and-from countries where the prevalence of cutting young girls is high, such as Guinea, Somalia and Sudan.
FGM is the altering or causing injury to the female genital organs for non medical reasons, including removal of the clitoris or labia.
Experts say it is impossible to know how many girls are being taken abroad for FGM because it is normally arranged by their families, and like other forms of child abuse, is relatively easy to hide.
But Equality Now, a charity that campaigns to eradicate FGM, says there is anecdotal evidence holiday cutting is taking place.
It says girls are more at risk during the summer holidays because it allows them more time to 'heal' before returning to school.
Jacqui Hunt, director of Equality Now's Europe office, told Euronews: "The challenge of under-reporting means that we don't know for certain how many girls are affected.
"FGM is a home-based crime and the people conducting or arranging FGM for their daughters are often family members.
"There is also a big challenge with detection as finding the physical evidence involves an invasive examination."
Doctors in England dealt with more than 5,000 new cases of FGM in the last year, according to latest figures from NHS Digital, with nearly a half based in London.
FGM has been illegal in the UK since 1985, and since 2003 anyone taking a child out of the country faces a 14-year prison term.
But, no-one has ever been convicted.
"It is very difficult and it's where the public and professionals need to help us in advance," Inspector Allen Davis of the Metropolitan Police told Euronews.
"If professionals and communities have concerns about a child at risk – it might be a teacher who overhears a conservation or hears a child is going abroad for a special ceremony – this is where they need to have the confidence to share it with the police," said Insp Davis, responsible for tackling FGM in London. "Because if that's recorded properly, intervention is put in place, such as protection orders.
"It is difficult to step in an intervene when people are leaving the country unless people have shared concerns in advance.
"So my plea would be is we'll never know enough, we need to know more about who is at risk, why these issues are happening, what routes are these people taking, are they going to different airports as a result of us being proactive at Heathrow and other airports?"
Protection orders, which allows authorities to confiscate the child's passport or stop them travelling, were introduced in July 2015. But just 113 have been issued in the 20 months since, or 5.7 a month, according to latest government figures.