Yemen fights back against cholera epidemic
Comments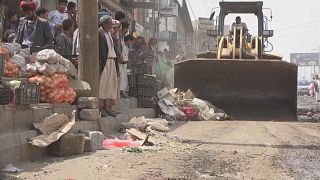 Yemeni authorities have begun the removal of street vendor stalls, waste and stagnant water to fight a cholera epidemic that has killed over 1,700 people since the end of April.
The campaign in Sanaa province also involved spraying pesticides on the streets.
Cholera is a water-borne disease which spreads in areas with poor sanitation.
Last week UN Aid chief Stephen O'Brien slammed the warring parties in Yemen and their international allies for fueling the deadly cholera outbreak:
"Seven million people including 2.3 million malnourished children, of whom 500,000 are severely malnourished under the age of five, are on the cusp of famine, vulnerable to disease and ultimately at risk of a slow and painful death," said O'Brien.
More than 330,000 suspected cases w/1,759 deaths reported in less than 3 months. Below is a map of Yemen showing who is affected. #SaveYemenpic.twitter.com/7nSFTtNQtv

— Bella_ofA (@Bella_ofA) July 16, 2017
A Saudi Arabia-led coalition intervened in Yemen's civil war in 2015, backing government forces fighting Iran-allied Houthi rebels. The country, which relies heavily on imports for food, has become one of the UN's top humanitarian crises.
Carrying empty plastic bottles of water for recycling, this boy represents an entire generation in #Yemen bearing the brunt of war. #Peacepic.twitter.com/ITqcswC9zN

— Mohammed Al-Asaadi (@alasaadim) July 16, 2017
Plans to ship as many as one million doses of cholera vaccine to Yemen are likely to be shelved over security access and logistical challenges in the war-torn country.
The World health Organisation and the UN are still supporting 600 treatment centres and rehydration points in a bid to stem the outbreak.