At least 3 dead, 12 injured in Hawaii tower block blaze
Comments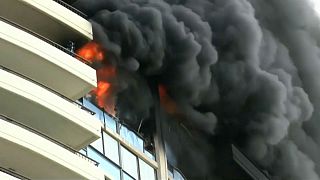 At least three people have died in a fire in a residential tower block in the US state of Hawaii.
The blaze consumed three floors of the 36-storey apartment building in Honolulu.
The fire that sent thick black smoke pouring out over the city, a month to the day after a deadly tower block fire in London.
Firefighters brought the flames under control in a matter of hours after the blaze began.
At least 12 people have been injured. Emergency workers said five people were taken to hospital and several others were treated at the scene.
Local media reported the fire started on the 26th floor and quickly spread to the to floors above.
#BREAKING Local media is reporting at least three people have died inside the Marco Polo Tower fire in Hawaii. MORE: https://t.co/PCt06boVdspic.twitter.com/cqXcv03W6P

— Sky News Australia (@SkyNewsAust) July 15, 2017
No sprinklers
The fire chief told reporters the building had no sprinkler system which would have contained the fire.
In London, at least 80 people were killed when a fire gutted Grenfell Tower in June. That building also had no sprinkler system.
#NYPost Fatal Hawaii high-rise fire was like scene from a horror movie https://t.co/yZobF3TgHM

— MomKnowsBestOnline (@MomKnwsBstOnLn) July 15, 2017