The journalists who fled to Greece to escape Turkey's crackdown
Comments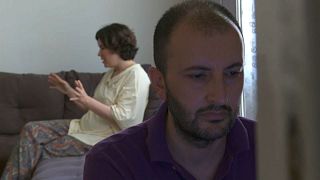 Family life for Tuba and Cevheri Guven underwent a revolution following the attempted coup in Turkey.
Up until that fateful day they were living in Istanbul with their two children
Cevheri and Tuba are both journalists.
Turkey is the world's leading jailer of journalists. Those in detention are all terrorists, Erdogan says. https://t.co/Nr9DyyxLRcpic.twitter.com/HuL2y6rBLW

—

PRI

's The World (@pritheworld) July 14, 2017
The fled their homeland.
One year on the family live in Thessaloniki.
Cevheri Guven explained how events unfolded:"We started to get scared when we heard about the coup. Because if the coup was successful or not all the democrats in Turkey were going to be arrested. So that is why when we heard, we started to worry about my family and myself. Two days after the attempt the Twitter trolls of the ruling AK party began to post the names of the journalists who were to be arrested. After the list was published the police carried out operations across the world. At home they came three times. After that we went into hiding for a month. Tuba hid elsewhere. They were arresting the partners of journalists, to try to gag them. Then we decided to leave for Greece."
Remember the #FreeAJStaff campaign? Let's do the same for 120+ journalists jailed in #Turkey. RT or Tweet a selfie with #FreeTurkeyMediapic.twitter.com/tee5YjAski

— Ian King (@ianking51) July 13, 2017
Cevheri was taken into custody in 2015 for for publishing an anti-Erdogan photo. He is now writing for the few remaining news websites that still exist in Turkey.
As for Tuba she is haunted by the difficulties they faced as they entered the county illegally: "Together we went to Edirne a border town between Turkey and Greece. We then crossed the the River Meric on a boat with traffickers to the Greek side. For the next four days we were at the police station under surveillance. We also had to stay for 14 days at the refugee camp. After that we came here with my children, my daughter has started elementary school and has finished her first year. My son also continued his year in kindergarten. Of course leaving everything, work, life and starting from scratch is a difficult story. But we can not help it."
Meanwhile they try to establish a normal social life. The kids are at school in Greece. They often meet other families from Turkey who also fled the country. For Tuba going back to Turkey is not an option.
They await asylum.
Kostas Tsellos is the euronews reporter in Thessaloniki: "Many anti-government Turkish nationals made the dangerous trip to Greece to escape the fear and insecurity post-failed coup even if they fear for loved ones at home they need to tell their story.''