Who is Putin chauffeuring to the monastry?
Comments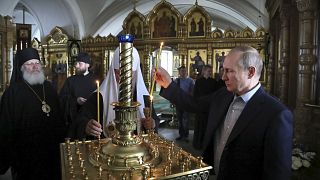 Vladimir Putin turned up at his favourite retreat driving a black 4×4.
It's unusual for the Russian president to be driving himself, by what was more surprising was that he had a passenger, not sitting alongside him but in the rear seat behind tinted glass windows.
After pulling up at the island monastery of Spaso-Preobrazhensky in northern Russia, Putin stepped out of the car and opened the rear door, before the female passenger gestured that she wished to remain where she was.
The president headed alone into the church where he met the leader of the Russian church.
Putin's official spokesman later said the mystery woman was a member of the security team.
However, the clip sparked rumours about the private life of divorced Putin, who refuses to disclose any detail about his relationship status.