[Watch in full] Merkel and Macron speak after a summit in Paris
Comments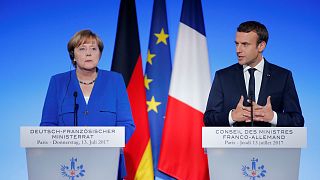 Chancellor Angela Merkel said on Thursday she wanted to breathe new life into Franco-German relations, promising closer cooperation between the two European Union heavyweights with the aim of reforming the bloc.
Merkel, speaking in Paris after a joint Franco-German cabinet meeting, added that Europe must take its fate into its own hands.
"I believe that we have shown shortly after the new government here was installed that we are ready to activate Franco-German relations with a new impetus," Merkel said during a joint news conference with French President Emmanuel Macron.
The two leaders announced plans to build a joint fighter jet as part of a drive to cement their countries' cooperation and strengthen the European Union.
"The aim of this fighter jet for a new generation is first to launch a common research and development programme to be able to plan it together, and then for our two armies to be able to use it together. I confirm to you, it's a profound revolution, but we are not afraid of revolutions," Macron said.
Singling out cyber-security the two leaders vowed to deepen European integration on defence, counter-terrorism and immigration.
The German Chancellor was questioned about Macron's ideas for greater integration in the eurozone that have brought suspicion in Berlin. On his proposal for a single finance minister, parliament and budget, Merkel said she agreed in principle.
"Personally I was always in favour, it's about how (to create a European finance minister). In general I'm not against a euro budget. In 2012 I proposed a small eurozone budget but I failed big time back then but I'm very glad this idea is now back on the table," she said.
The French and German leaders also visited a youth centre in northern Paris which provides German language lessons, and held a meeting with French Prime Minister Edouard Philippe. Together with EU representatives they pledged support for a G5 Sahel alliance – a joint military force (from Mauritania, Chad, Mali, Burkina Faso and Niger) to fight Islamist extremists.
Merkel's visit to Paris coincided with that of Donald Trump but there were no plans for the German leader to meet the US president.
Both leaders showed they were keen to revive the traditional German "engine" within the EU. They talked about working closely in many areas, however it will be difficult for both countries to act on key projects until after the German elections in September.
Watch the Macron-Merkel press conference in full