English football club introduces equal pay for male and female players
Comments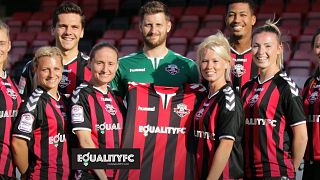 An English semi-professional football club has introduced equal pay for its male and female teams.
Lewes FC, based in southern England and founded in 1885, believe they are the first in the country to bring in such a rule.
Their female team plays in the Premier League Southern Division, two leagues off the top level, while their men's team is in the Isthmian League Division One, the eighth level of English football.
The club is owned entirely by fans.
"At Lewes FC we believe that there should be a level playing field for women in football," said club director Jayquie Agnew. "By committing to paying our women's and men's teams equally, and providing equal resource for coaching, training and facilities, we hope to spark a change across the UK that will help put an end to the excuses for why such a deep pay disparity has persisted in our sport."
The club are hoping the initiative will encourage more football fans to sign up to support them.