Silk Way Rally: Cyril Despres has his day in the sun
Comments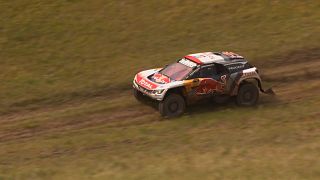 Stage five of the Silk Way Rally featured another long day. It featres 849km in total with 482km of a special timed section.
Top notch navigation was required on a day that had big fast sections in the Kazakh steppe.
Defending champion Cyril Despres won his first stage in the cars, cutting his Peugeot teammate Sebastien Loeb's overall lead to 50 minutes.
Second on the day's special was the Chinese driver Yangui Liu, who gave the Chinese manufacturer Baïcmotor their best result on the Silk Way rally.
Bryce Menzies in the Mini John cooper finished third ahead of Lu Binglong.
Kamaz had a barnstorming day placing 1 – 2 -3 in the trucks section.
The 2013 champion Dmitry Sotnikov led home Anton Shibalov and Dakar winner Eduard Nikolaev.
The Russian takes the overall lead, just 48secs ahead of Shibalov.
Sotnikov was pleased that his tactics paid off:
"It was very very fast, every time pedal to the metal and you drive on maximum speed," he said.
"I think the average speed is the maximum possible. If we compare with the stages so far… It's difficult to add something. Straight, straight, and every time you try to cut. This was the main tactic for us today."