Hvar introduces fines for tourists behaving inappropriately
Comments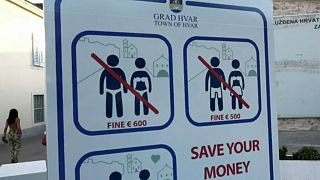 The Croatian island of Hvar has had enough of rowdy tourist turning the classy destination into a "boozed-up free-for-all."
Hvar's new mayor has introduced a raft of fines to encourage visitors to behave more appropriately.
Not wearing a top could cost you 500 euros. Wandering around in a swimsuit: 600 euros. Drinking in public: 700 euros.
Croatia's tourism industry accounts for 18 percent of the country's gross domestic product.
Hvar's mayor said young people who know how to behave are welcome.
I don't usually do this for free, but here's bit of pro bono proofreading for Hvar. pic.twitter.com/3WKHVG2xFr

— Miha Barborič (@mihabarboric) July 11, 2017
last day in Hvar I'm going to miss this place so much I loved it here pic.twitter.com/YvV7G19ETL

— elise (@sykesgvnn) July 11, 2017