Don't restrict 'gig economy', takeaway courier Deliveroo tells government
Comments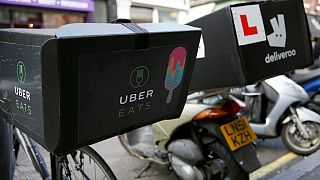 British takeaway food courier firm Deliveroo said any attempt by ministers to restrict the flexibility of the "gig economy", in which people can work simultaneously for different employers without fixed contracts, could undermine the sector.
A government review, published on Tuesday, called for a new category of worker called a "dependent contractor" meaning that those Britons working for companies such as taxi app Uber and Deliveroo would receive more benefits.
In Britain, the self-employed have no entitlement to employment rights beyond basic health and safety and anti-discrimination laws.
Regular workers, by contrast, receive entitlements such as annual leave, rest breaks and the minimum wage.
British prime minister Theresa May said the government would look at the report's recommendations seriously and consider them over the summer.
"The government needs to ensure that any new measures are pro-growth so that companies can continue to expand and create well paid opportunities for people in the UK," the firm said in a statement.
"The government should be under no illusions that any moves to restrict flexibility could undermine the very thing that attracts people to work in this sector."
May launched the review into new employment practices when she became prime minister a year ago.
May used the publication of the report on Tuesday – you can watch her full speech below – to reach out to opposition MPs – a necessary move after she lost her parliamentary majority last month.
"When I commissioned this report I led a majority government in the House of Commons and the reality I now face as prime minister is rather different.
"In this new context it will be even more important to make the case for our policies and our values and to win the battle of ideas both in parliament and in the country.
"So I say to the other parties in the House of Commons: read this report, engage with the difficult issues it raises, come forward with your own views and ideas about how we can tackle these challenges as a country.
"We may not agree on everything but through debate and discussion – the hallmark of our parliamentary democracy – our ideas can be clarified and improved."
Watch Theresa May's full speech