NATO Secretary General to visit Ukraine
Comments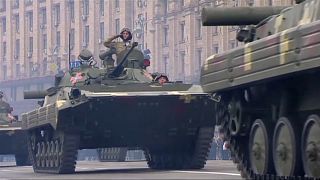 Ukraine is set to welcome Nato Secretary General Jens Stoltenberg on July 10th. The visit coincides with the 20th anniversary of the distinctive partnership between NATO and Ukraine and high ranked officials hope it will provide an opportunity to discuss Ukraine's prospects of joining the Alliance.
In an exclusive interview for Euronews, the Head of the Ukrainian Parliament Andriy Parubiy stressed that in June Ukrainian MPs adopted a draft law that sets membership of the Alliance as a priority for the country. On the July 6th, the bill was signed by Petro Poroshenko. Now Ukraine needs to step-up its reforms to comply with NATO standards
"The Ukrainian army is becoming one of the most powerful armies in the region," he explains. "Moreover, the army has real combat experience, the experience of modern warfare which means the Ukrainian army is capable of defending not only the Ukrainian border, but also the eastern border of NATO, and the eastern border of the entire free world."
But experts are not so optimistic about prospects of joining Nato. Oleksandr Sushko, Research Director of the Institute for Euro-Atlantic Сooperation, says even receiving a Membership Action Plan is a long-term outlook for Ukraine mainly because of the ongoing military conflict with Russia.
"Although there is no direct ban on the accession of a belligerent country, there is a logic which means granting NATO membership to a country must add stability and security to the Alliance and the world as a whole,",explains Oleksandr Sushko. "There is a large group of NATO members who would not like to increase tensions in relations with Russia. And it is clear that any move towards Ukraine's accession will mean additional tension."
In February, President Poroshenko said he would put Nato membership to a referendum. Recent polls show strong support for membership among Ukrainians.
"If a NATO membership referendum was held this year, almost 70% of voters would say "yes" according to recent surveys. What is remarkable is that since 2012 the number of the North Atlantic Alliance supporters has tripled in the country. The main reason for this is the armed conflict in Ukrainian Donbass." says Euronews journalist Maria Korenyuk.