Dozens injured in anti-G20 clashes in Hamburg
Comments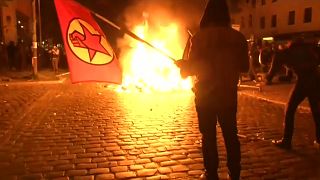 Their slogan: "Welcome to hell".
Hundreds of black-clad anti-capitalist protesters have clashed with police in Hamburg ahead of a two-day G20 summit.
As the leaders of the world's richest countries began holding informal meetings on Thursday evening (July 6), thousands of protesters from around Europe poured into the German port city to join the main demonstration. They say G20 summits have so far failed to solve the key issues threatening world peace.
Around 75 police officers were injured in the scuffles, which went on until midnight. Several cars were torched and shop windows smashed.
#G20 Police says situation in Hamburg has calmed down. Still massive police presence in the streets. #NoG20#g20HH17#Welcome2Helldwnews</a> <a href="https://t.co/qCX0Wahk2Q">pic.twitter.com/qCX0Wahk2Q</a></p>— Birgitta Schülke (BirSchuelke) July 6, 2017
Police dispersed the crowds with water cannons and pepper spray.
Authorities expect 100,000 people from around Europe to join demonstrations against the summit. Among them, around 8,000 are deemed to be ready to commit violence.
The scenes will likely be an embarrassment for German Chancellor Angela Merkel, who wanted to show the world that large protests are tolerated in a healthy democracy.
In #Hamburg, police and protestors clashed as police used pepper spray and water cannons during anti-#G20 demonstrations. #welcometohellpic.twitter.com/ByDAFllzC9

— dwnews (@dwnews) July 7, 2017