"Welcome to hell" - Hamburg braced for violent G20 protests
Comments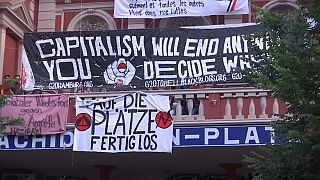 Authorities in Hamburg are bracing themselves for violent protests on the eve of a two-day G20 summit.
Thousands of anti-globalisation demonstrators have descended on the northern German city ahead of the meeting.
The city's police chief has expressed fears that anarchists will attempt to carry out massive assaults during the event.
"G20: welcome to hell", is the slogan activists have adopted for their protest.
Michael Martin, the spokesman and co-organiser of the protest action, said: "Around the world life is hell for many people and we wanted to express this and we also wanted to express that we are not prepared to play along and that we want to disturb the seamless process of this summit."
Earlier this week, five people were hurt and several arrests made after clashes broke out between activists and security forces near the G20 venue.
The Hamburg Police, who have been criticised by some locals for their heavy-handed approach, have been using a fleet of high-tech water cannons to disperse crowds.