Venezuela: pro-government mob storms opposition controlled assembly
Comments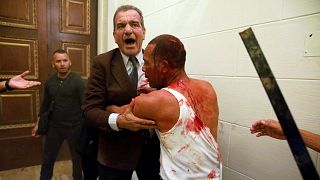 Several Venezuelan politicians have been badly hurt after pro-government supporters wielding sticks and metal bars stormed the national assembly.
The melee came during a special session to mark the South American country's independence day.
More than 350, politicians, journalists and guests were trapped for several hours inside the legislature following the unrest.
Laying blame squarely on the government, the president of the opposition-controlled congress Julio Borges said: "The violence in Venezuela has a name and surname: Nicolas Maduro."
"Whoever sees these images from today in the National Assembly, it's possible that they get confused and think we're facing a strong government. They're wrong. A government that does what they did today with their parliament is a weak government, is a fallen government, is a cowardly government," Borges added.
The bloody attack, the latest in a worsening cycle of violence in Venezuela, is said to have taken place in plain view of guards tasked with protecting the legislature.
Rowdy pro Government groups burst inside #Venezuela Congress on its Independence Day. Several lawmakers hurt #5Jul. Video: CaraotaDigital</a> <a href="https://t.co/fdixVvln8P">pic.twitter.com/fdixVvln8P</a></p>— Mariana_Atencio (marianaatencio) July 5, 2017
President Maduro condemned the unrest describing it as "strange" and vowed to investigate.