Tour de France: 'I didn't do anything wrong,' says Peter Sagan
Comments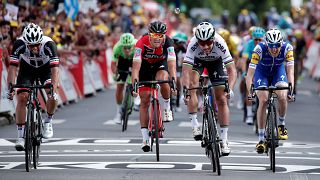 Peter Sagan, the world road race champion, says he has come to terms with his disqualification from the Tour de France but he does not agree with the decision.
The Slovak rider was trying to win the Tour de France points title for the sixth consecutive time this year – in doing so he would equal the record of Erik Zabel – when he collided with Mark Cavendish during a hectic finale to the fourth stage.
"I do not think I did something wrong in the sprint," he said.
"I didn't do some rape yesterday or something, but it wasn`t a good time. What can I do? I can just accept the decision of the jury but for sure I don't agree with them because I think I didn't do something wrong in the sprint."
Cavendish broke his shoulder blade in the crash and has withdrawn from the Tour. The Manxman said there were no hard feelings.
"Yes, he [Sagan] called me last night. I didn't get home from the hospital until gone 11 O' clock. I had a message from him "are you still up" and he gave me a call and we spoke about everything.
"We have a good relationship, we are friends and colleagues and we have massive respect for each other. I think there are no personal feelings .
"The commissars are there for a reason, to make the calls. It takes big balls to throw a World Champion out of the Tour of France."
Sagan was initially given a 30-second penalty and docked 80 points in the green jersey competition. But after video analysis the judges convened a press conference to announce that the five-time green jersey winner would be sent home.